Safety & Essentials about the oils
Essential oils are natural, concentrated aromatic liquids and to be used with care.
Most essential oil are obtained through water steam distillation from plant material like flowers, leaves, bushes, trees, roots, seeds and even grass.
Essential oils support the plant in its healthy growth, in its environmental adaptation and they are also playing an important role in fending off illness and pathogens.
Essential oils are quite complex in their composition with more than one hundert different chemical parts and compounds. It is this complexity that makes essential oils so potent.
And there are a couple of things that we need to be aware of when working with essential oils.
1. Always and only use high quality essential oils:
The quality of an essential oil is crucial for a safe application. Every contamination, every addition of fillers or synthetic oils will get through your nose and your skin into your body.
In the best case they will do nothing. In the worst case they can provoke unwanted and unhealthy reactions.
So the quality of an essential oil is critical, whether an oil is harmful, neutral or supporting health.
2. Always start with small amounts
As essential oils are very concentrated liquids, it is best to start with one or two drops in your application.
There is a reason why we buy essential oils mostly in bottles of 5, 10 or 15ml with a dropper inserts. Because most of the time a couple of drops are enough to be useful.
3. always check out the label
It is always good to read the label AND at the same time understand what it actually means.
Certain things need to be on the label of essential oils in Europe: for ex. the main chemical components of an oil. That does not mean that these compounds are synthetic.
If you are unsure about what you are reading on the label, please ask someone that might know more, check the internet or send me a message.
4. No essential oil into your eyes nor ears!
Never drop any essential oils into your ears nor into your eyes!!!
If it should happen anyways, please since with a fatty substance like olive oil, yoghurt, coconut oil, butter or anything like that.
NEVER rinse with water!!!
Water helps to drive essential oils faster into the body tissue and in this case that is not what we want!
5. Citrus essential oils and some others are photosensitive
Citrus essential oils and some others are photosensitive, because they contains ingredients ( furanocumarine), that can heighten UV sensitivity.
For ex. if you apply Lemon or Orange essential oil onto your skin, it is recommended that you wait 12-24h before you expose these areas to the sun. Just keep them covered.
6. safe storage
Store your essential oils in a dark, cool place, away from the reach of children and animals.
It is also advisable to store your oils upright and not laying on the side like in some essential oil bags.
This way you protect your precious essential oils.
7. Don't forget to also check in with your intuition
If you have an off-putting reaction to an essential oil, better not to use it even if someone told you to.
Do your research, read and ask questions, it is your body!
8. If you have concerns
or/and if you are on medication, absolutely check in with your doctor.
9. If you are pregnant,
please check in with your midwife or book a free call with me.
Let's take a look at organic/Demeter certified essentials oils: the certification includes "only" the cultivation of the plants – which is already a good thing and important to check. However the whole complex process of distillation cannot be certified and is not included.
And especially the distillation process needs a lot of knowledge: when to harvest, how long the plant needs to rest before distillation and how long the specific plant needs to be distilled.
It is also during this period that dilution can happen with cheaper or even synthetic essential oils can happen.
You do not find this kind of information on the label.
That is why the organic or Demeter certification is unfortunately no guarantee for a high quality essential oil.
Young Living has their own farms and partner farms all over the world. On all of these farms, they implemented the strict quality control called Seed to Seal. Controls are regularly, random and unheralded.
The Seed to Seal promise embraces the whole process of the production of an essential oil from the seed, the growing period up until the oil is filled in the bottles and the lit put on.
Young Living also has it's own laboratory with over 50 scientists who do quality tests and of course also lets independent laboratories test their essential oils.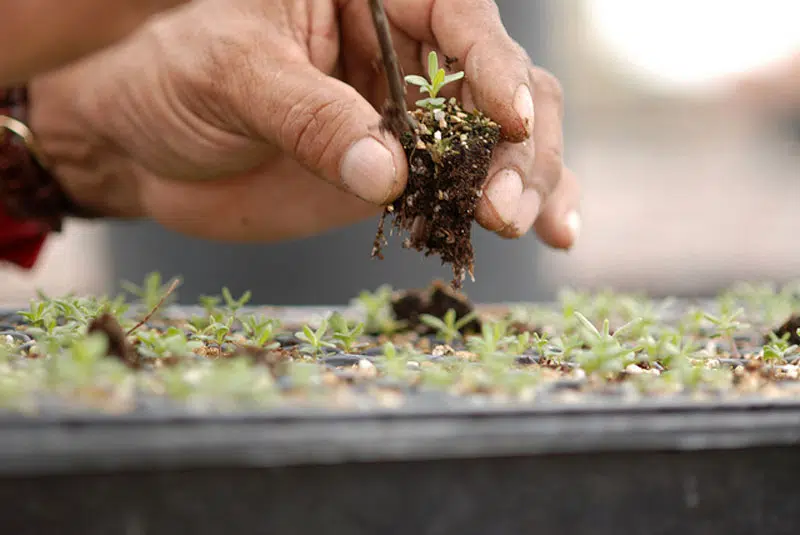 Because Young Living is testing essential oils since over 25 years, it has the biggest data base of research of essential oils worldwide.
And we can visit the Young Living Farms! This really amazed me from the very beginning.
We can go to the farms, talk with the farmers, learn first hand all about the distillation process and see for ourselves the plants, the fields and the whole process.
As for me with each visit of different Young Living farms my trust in and knowledge of the quality of the Young Living farms essential oils has grown.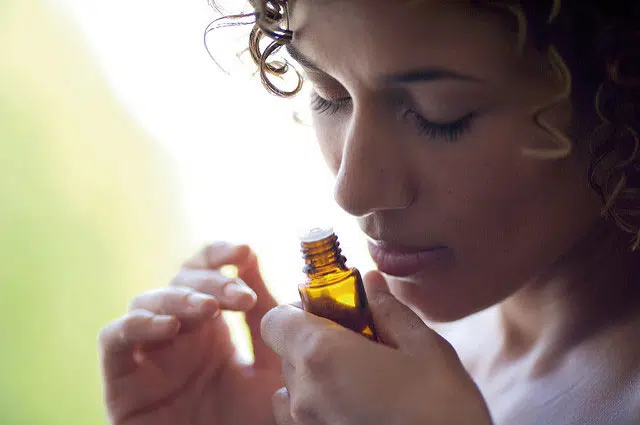 Simply open a bottle of essential oil and breathe in the aroma directly from the bottle;
Or you can drop a couple of drops into your palms, rub them together and place them openly in front of your nose. Close your eyes and take a deep breath in. This is called hand inhalation.
Another, very simple method of inhalation is the diffusion of the essential oil in a cold diffusor.
Put a bit of water and a couple of drops of essential oil into your diffusor, for ex. the Dew Drop Diffusor, that comes with the Premium Starter Kit.
You can also put a couple of drops of essential oil onto a cotton ball, your pillow, your clothes or some aroma ornaments or jewellery and inhale the scent this way.
2. Topically onto the skin
In order to apply essential oils onto your skin, dilute a couple of drops of the essential oil with a carrier oil, like almond or coconut oil, and apply to the desired area of your skin.
Soles of your feet, legs, lower back, shoulders, the inside of your wrists, neck and chest, your temples and the crown of your head are all great areas to apply the wonderful essential oils.
You could also add a couple of drops of the essential oil in some good quality sea or epsom salt and add that to your bath water.
Or you can create your own massage oil by adding a couple of the essential oil of your choice to your massage-, or body care oil.
Young Living offers essential oils that are officially registered as supplements. They are called Plus oils in Europe and Vitality oils in the States.
We can use these Plus/ Vitality oils without concern in our cooking and baking, in Smoothies and warm drinks (coffee, tea, hot chocolate) or simply in our drinking water.
On top of that we can put them in empty capsules, in a bit of honey or a piece of bread and take them internally.
And again, like I mentioned before, it is best to start slow with less drops and check in with yourself, how you are doing with taking essential oils internally.
If you have any concerns and doubts, please check in with your doctor who knows about essential oils.
Find out more ideas about the application of essential oils in your daily life