Do you love to take a bath, too?
After a longday at work, or a day on the slopes, or if you just want to take care of yourself, a warm soothing bath can be just wonderful and add to our overall wellbeing.
We can even enhance the relaxing properties of the warm water with some exquisite, aromatic DIY bath salt.
And the quickly done DIY bath salt is also great as a last minute small present.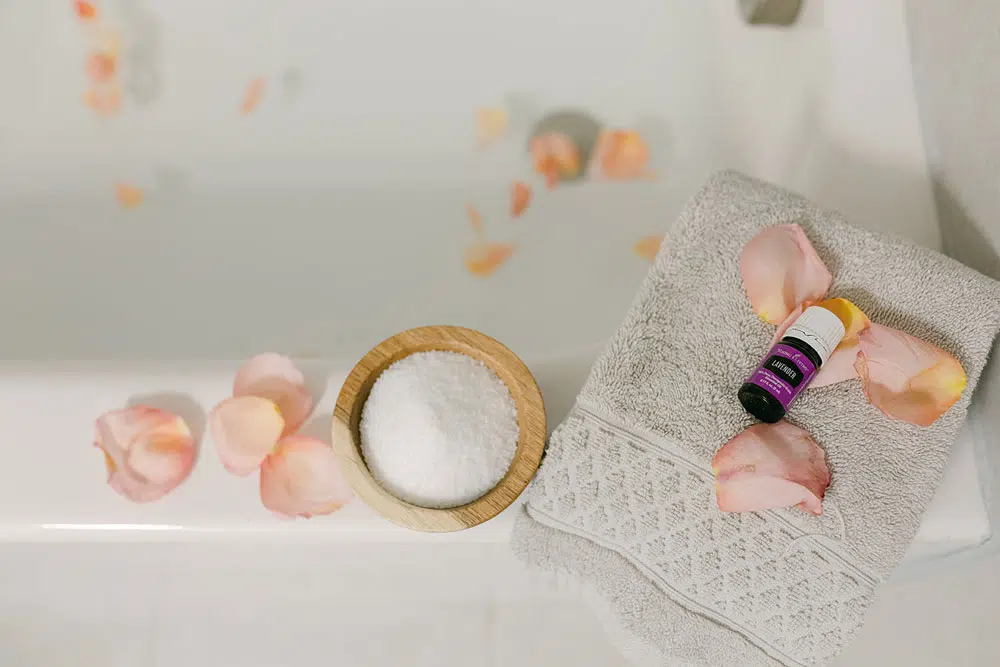 This is what you need to make your own bath salt:
about 130g salt – I like to make a blend from good quality sea salt, Epsom salt and maybe some Himalayan salt
10 drops of Young Living Lavender essential oil, for example
1x 120ml glas, empty and cleaned jam jar or similar
optional: some natural food colouring. I rarely use it, but if you like it colourful, this could be an option
also optional: some dried herbs, like Lavender or Rose flowers. Be aware that the flowers will be floating in the bath water and a might block the drain later.
And this is how it's done:
Mix together the different kinds of salt of your choice in a bowl. If you want to color the salt, use some natural food colouring. You may also want to add some dried flowers like lavender, rose petals and/or chamomile flowers. Now you could either:
fill half of a glass jar with your salt mix, add your choice essential oil, mix, fill up with some salt to the top and mix again.
or, if you want to make several jars of the same blend, just add the essential oil of your choice to the salt blend before filling the glass jars.
What kind of salt can you use?
Sea salt is great, because of it's mineral content, but also salt from your local saline. I personally don't use white household salt, because of the lack of minerals in it.
Epsom salt is another great ingredient for your bath salt. Epsom Salt is pure magnesium sulphate and is said to have a relaxing effect on the muscles.
Because of it's color, I used to use also Himalayan salt. However in the meantime, I find it very hard to distinguish true Himalayan salt from fake one. So I am using what I still have, but do not buy anymore. But the color always looked very nice.
Which essential oils are best to use?
Here you can be very creative: there are a lot of high quality essential oils and essential oil blends that can be a great addition to your bath salt.
The most know is for sure Lavender essential oilwhich is wonderful for a relaxing evening bath salt.
Here is a small choice of essential oils for your aromatic bath salt:
Lavender and Orange, Patchouli, Rose, Geranium, Jasmin, Ylang Ylang, essential tree oils like Pine, Idaho Blue Spruce or Northern Lights Black Spruce. Also Eucalyptus radiata, Copaiba, Vanilla and Frankinense are great choices.
There are also a couple of great Young Living essential oil blends that mix very well with your bath salt. How about the blend Stress Away, Joy or Citrus Fresh? Peace&Calming, Seedlings Calm, Grounding, Sensation or Valor can also be great blends to add to your bath salt.
We also love the essential tree oils like Idaho Blue Spurceor Northern Lights Black Spurce are wonderful to help with regeneration after any work out.
not recommended:
So called hot oils like Clove essential oil, Cinnamon bark essential oil or Peppermint essential oil are not recommended to use in a bath as they can be quite irritant to very sensitive parts of our bodies.
And please be aware that some of the essential oils can be photosensitive like all the Citrus essential oils. Please wait 12-24h after applying these oils to your skin before exposure to the sun or UV light. On the other hand, essential oils like lemon or Orange can be very beneficial in your bath salt. So you may want to use them in your evening bath.
Dosage
Depending on how big your bath tub is, you can use 2-5 soup spoons of your self-made bath salt for a wonderful bath.
Again, if you are using an essential oil or an essential oil blend new to you, please start with less and gradually increase the amount of essential oils you are using.
Enjoy!
PS: if you are not fond of taking a bath, you still might like a foot or hand soak? A relaxing or refreshing foot bath is easily done and can be a wonderful preparation for a pedicure.